Welcome to the wonderful world of artist Mike Quinn and his Fish with Attitude. This site features his past, current, and in progress pieces. Some custom made per the clients request and some straight out of the artist's wonky imagination. Mike's a Texas transplant who goes to the extremes with his creations, after all everything is bigger in Texas, Teeth, Fly traps, Crabmen...Huge!
Each piece is lovingly hand crafted in his personal studio. He specializes in custom order pieces however he does like to just create off the wall art...for his own amusement. You'll find an array of unique art in his online gallery shop. His shop changes weekly and you can follow him on Facebook or Instagram to see his latest works in progress. The Artist frequents local art shows, those will be announced as they come up.
---
Looking for Some Fish-tastic Products?
Shower curtains, mugs, tee's, calenders and ton of other goodies await you...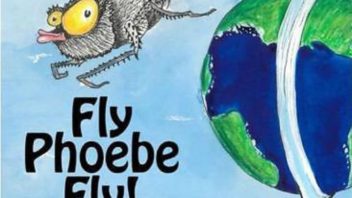 Have You Met Phoebe? Phoebe is a fly...but not just any regular house fly. No Sir, she is a phenomenal fly. This ph-abulous little fly globe …
Read more
The best children's book my son and I've read in quite a while. My son is 11 and he loves to read as a younger child but since his required reading in school is not of real good quality his interest in reading has sadly diminished. This book engaged my son again and is such a blessing. We can't wait for Phoebe's next adventure.
Spectacular product and transaction, as is always the case with Mike Quinn!
Absolutely in love with these pieces and customer service was exceptional!
Nothing makes my day quite like a package of fish...I'm running out of wall!
Bought this book and was amazed with the colored pictures. Page after page, full of fun stuff!!! This is a must for parents with young kids(mine love it). Great bedtime story!
Thank you Mike Quinn for the fish, book and tour. Can't wait to give these to some lucky family members for Christmas. Great work for a very reasonable price. Thanks a lot!
He loves them! Already planning for the next order....color and fish....what to choose???