This page shows the progression of art…how a Tiki head can become a crabman.
These pieces are part of the custom collection of Creatures with Attitude. No pieces will be the same and each will feature the their own quirky personalities. Many of these pieces will have unique details and radical size variations.
Here you can see the small heads in the making…
A new year brings a new start and 2017 was no different for artist Mike Quinn. He hit the ground running with his new line of vessels titled "The Swimming Heads". While the general use of these magical vessels is hotly debated amongst the worlds leading experts, They can all agree that just being near a Swimming Head makes you worry less and smile more. If you find yourself in dire need of a vessel of great importance please contact us for a special order.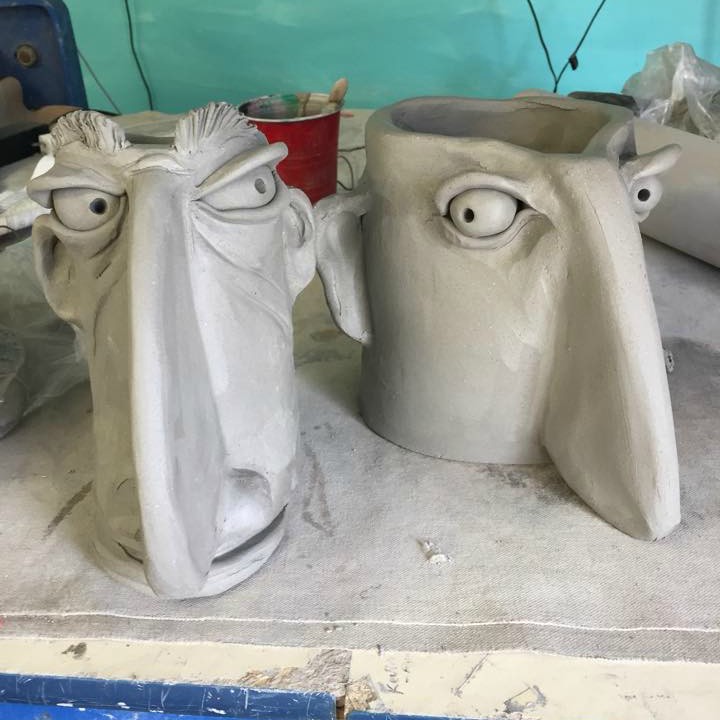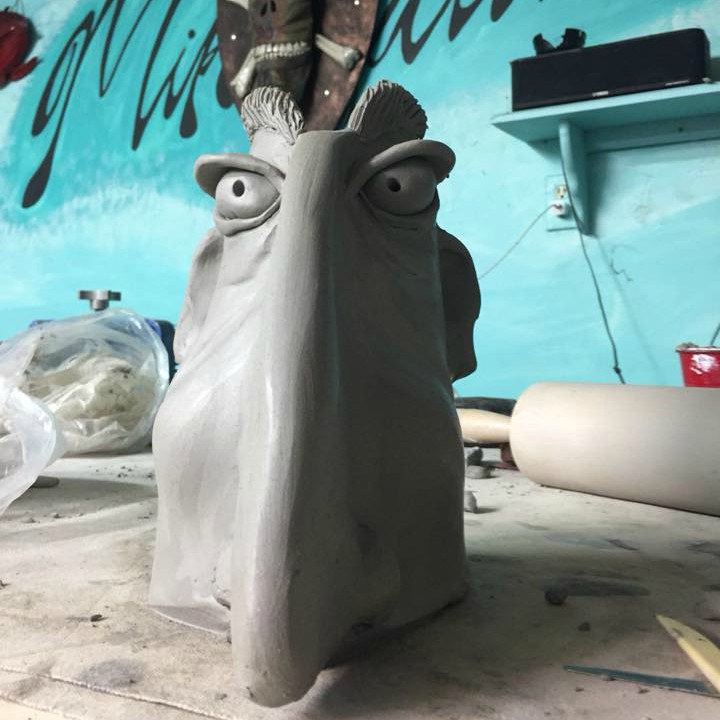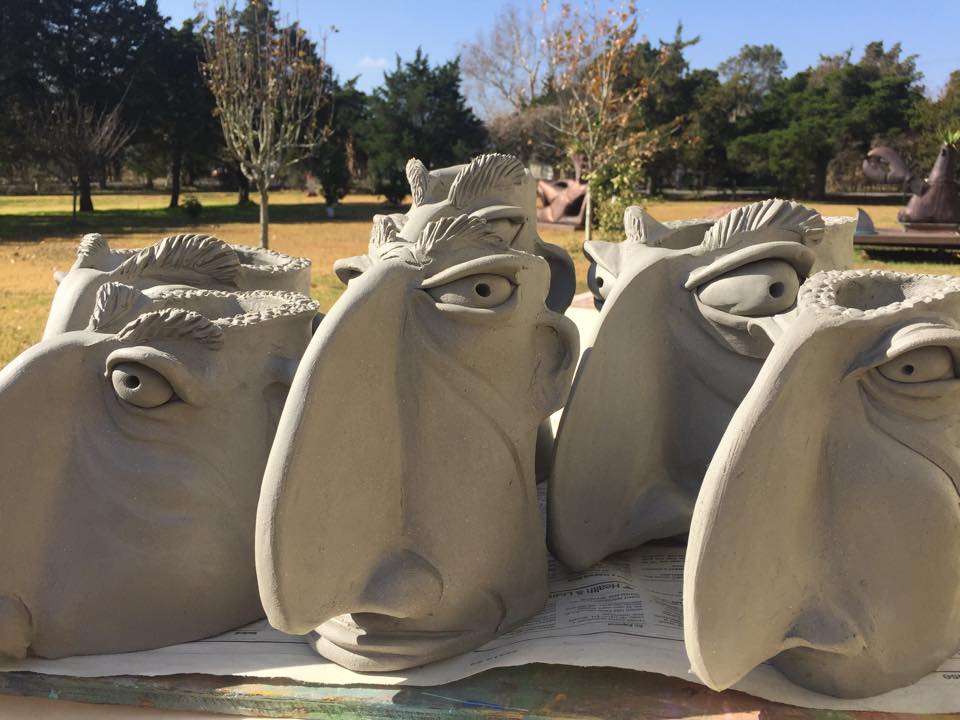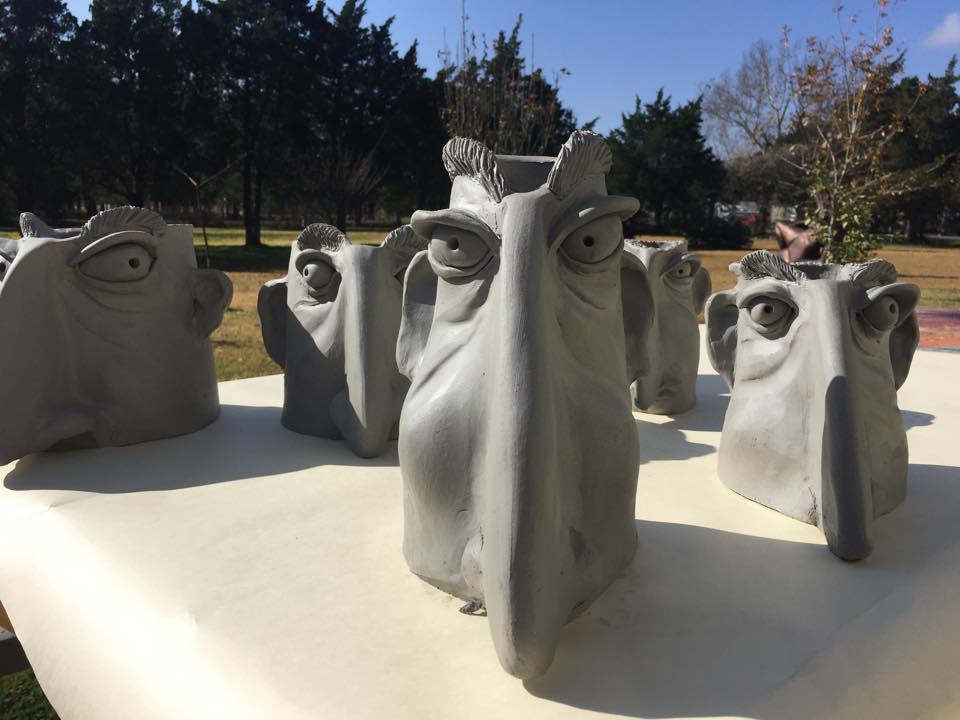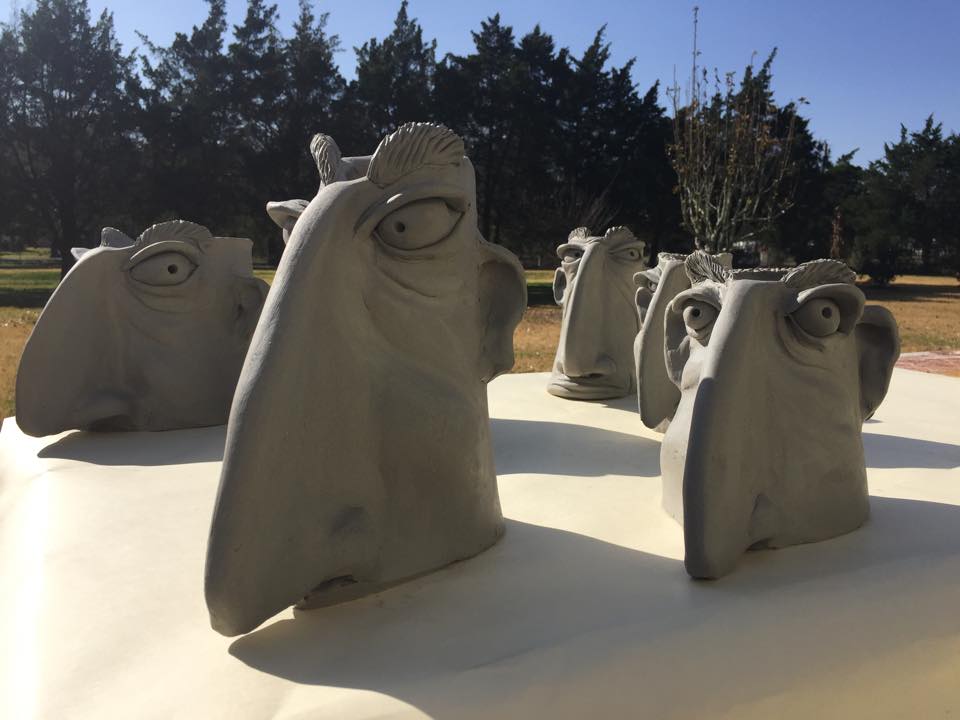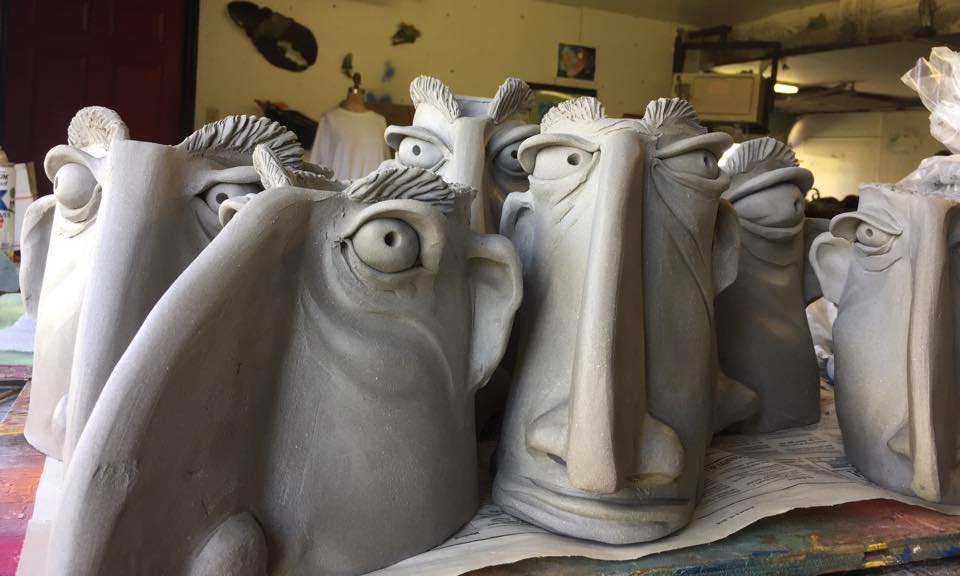 As you can see these delightful beings are more than mere art…they are a force of good luck, prosperity and well being. You simply cannot live in a space with them without feeling an abundance of joy and delight just by their presence. Each is completely unique in personality and disposition, you should only invite them to live in your home if you are dedicated to their well being and happiness. They won't tolerate living in a closet or pushed aside behind a plant, they desire to be the center of attention.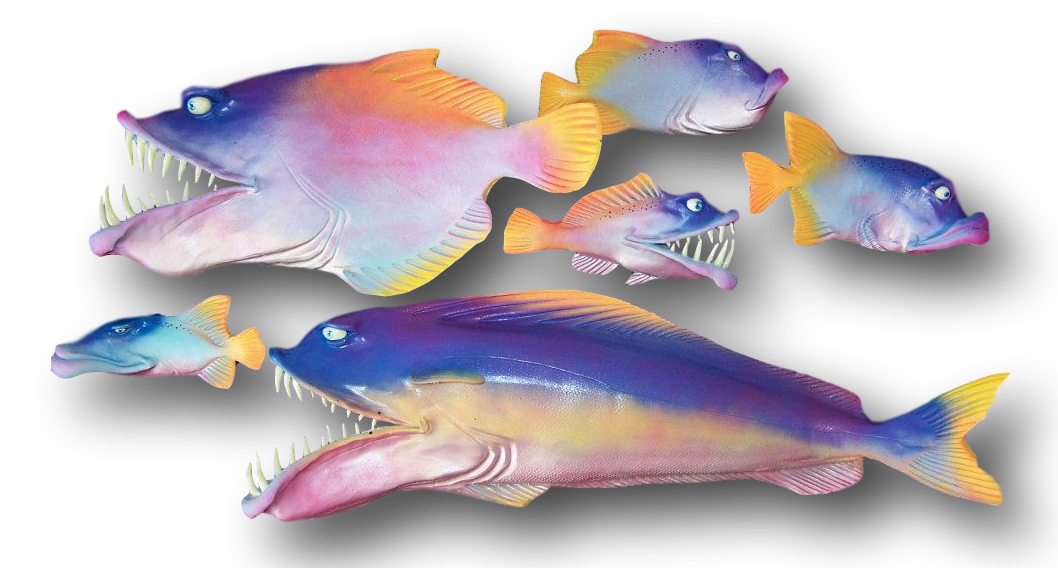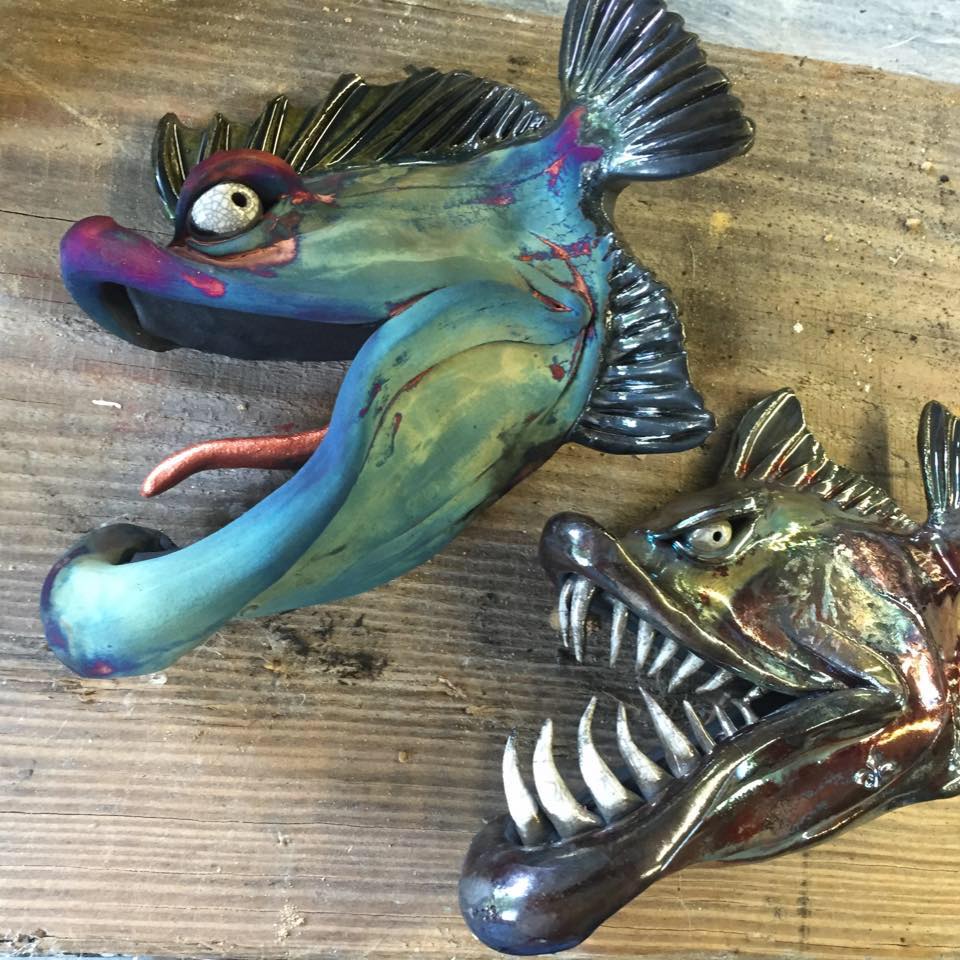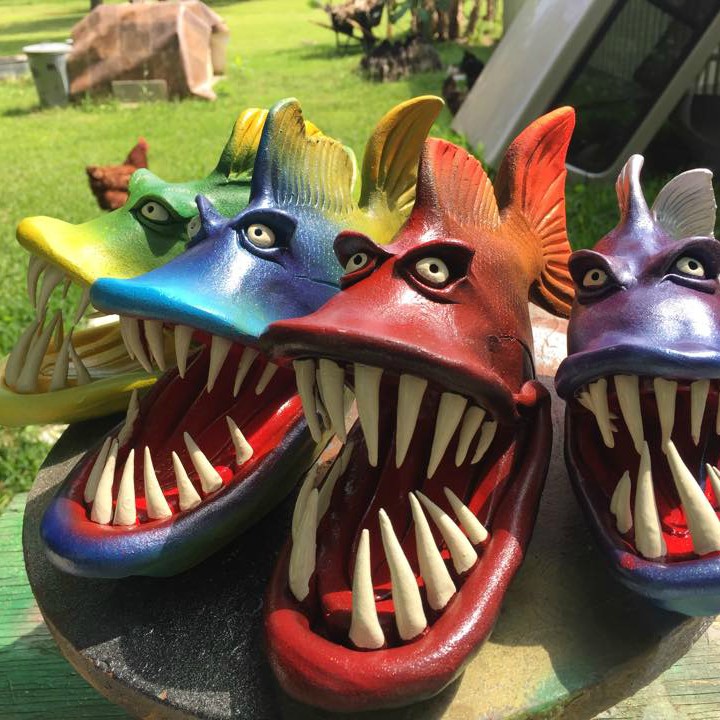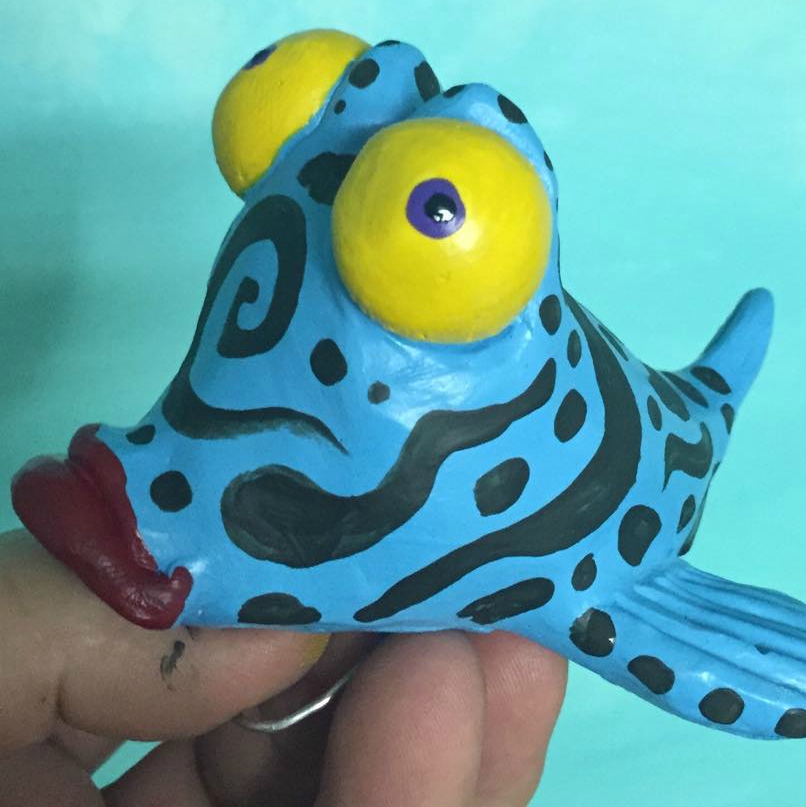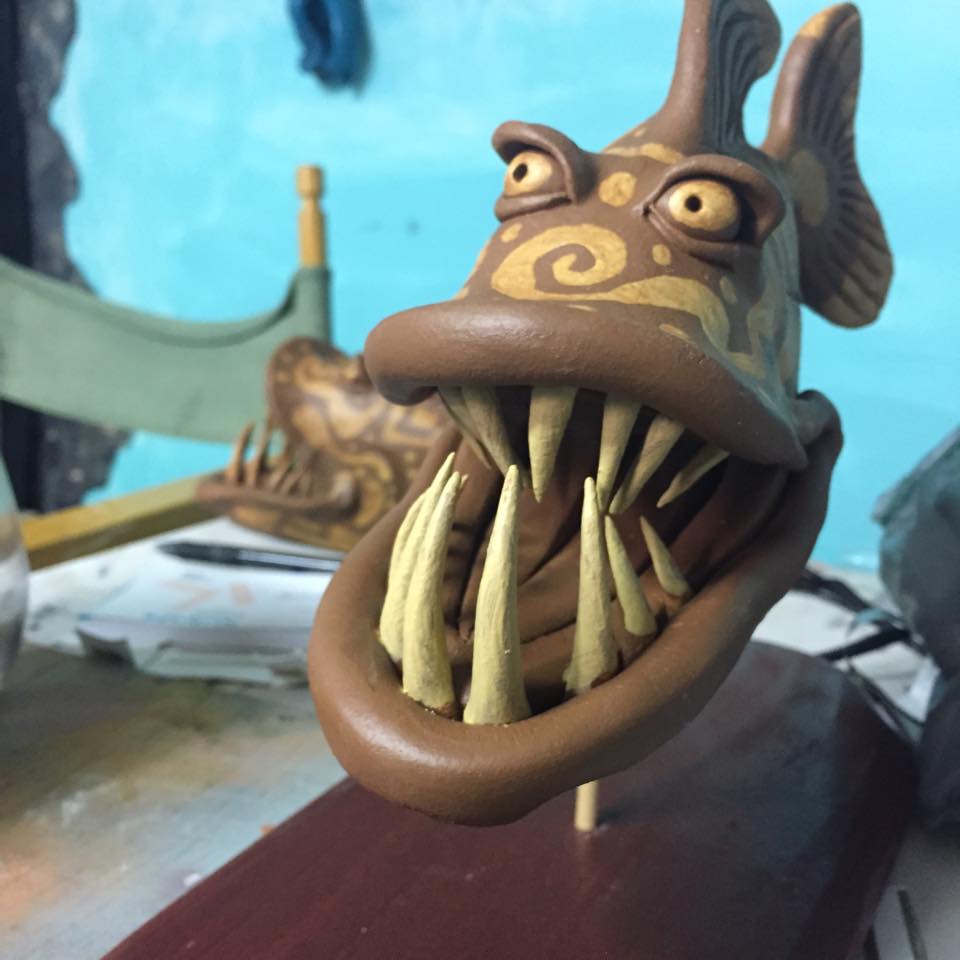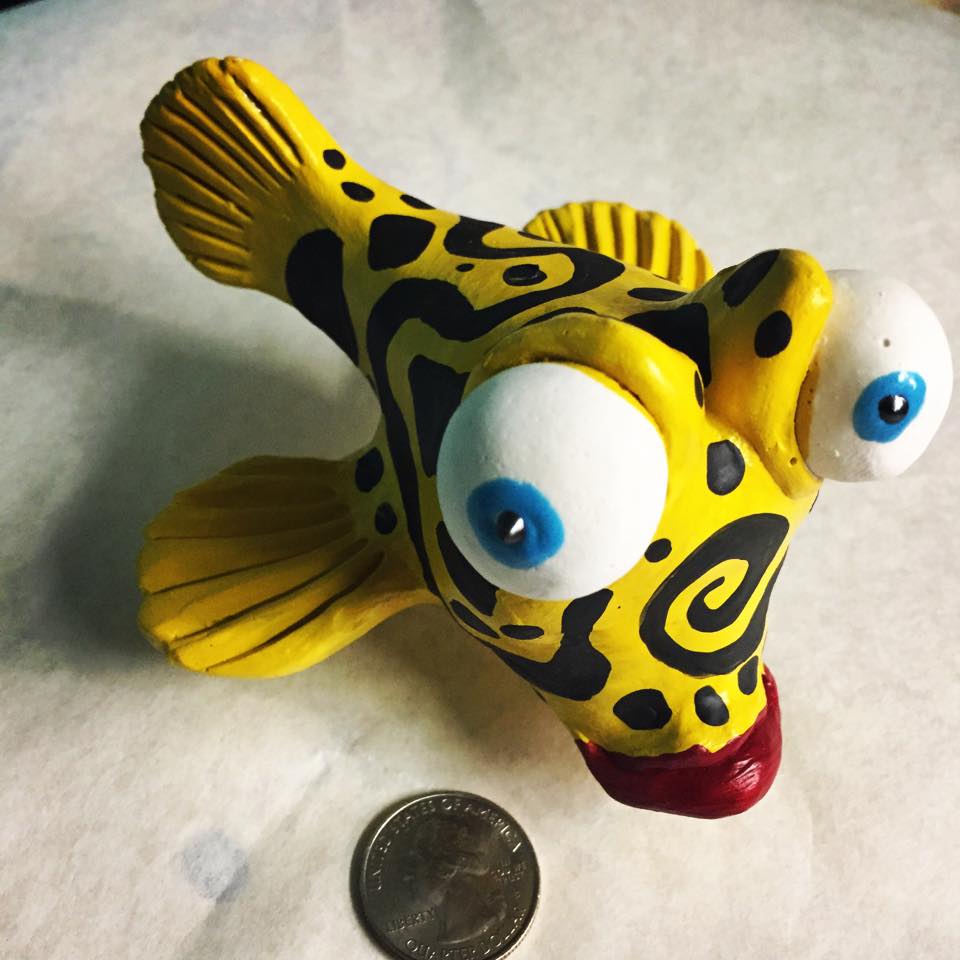 Raku ceramic firing was first developed by the Japanese back in the 1500s they mainly used it to make tea ceremony cups!
Raku was first brought to the United States in the 1950s it has been developed and experimented with over those many years. The ancient techniques of raku process involves heating the piece quickly and then cooling it rapidly in a reduction atmosphere basically free of oxygen. This lack of oxygen creates the effects on the glaze surfaces .
I learned about raku firing techniques from a man named Jake black he was a Canadian teacher that came down to Texas state in the winter time to teach Raku firing techniques, he was kind enough to share his many glaze formulas and his years of experience. I still use those same glaze techniques and formulas to this day 25 years later. -Mike Quinn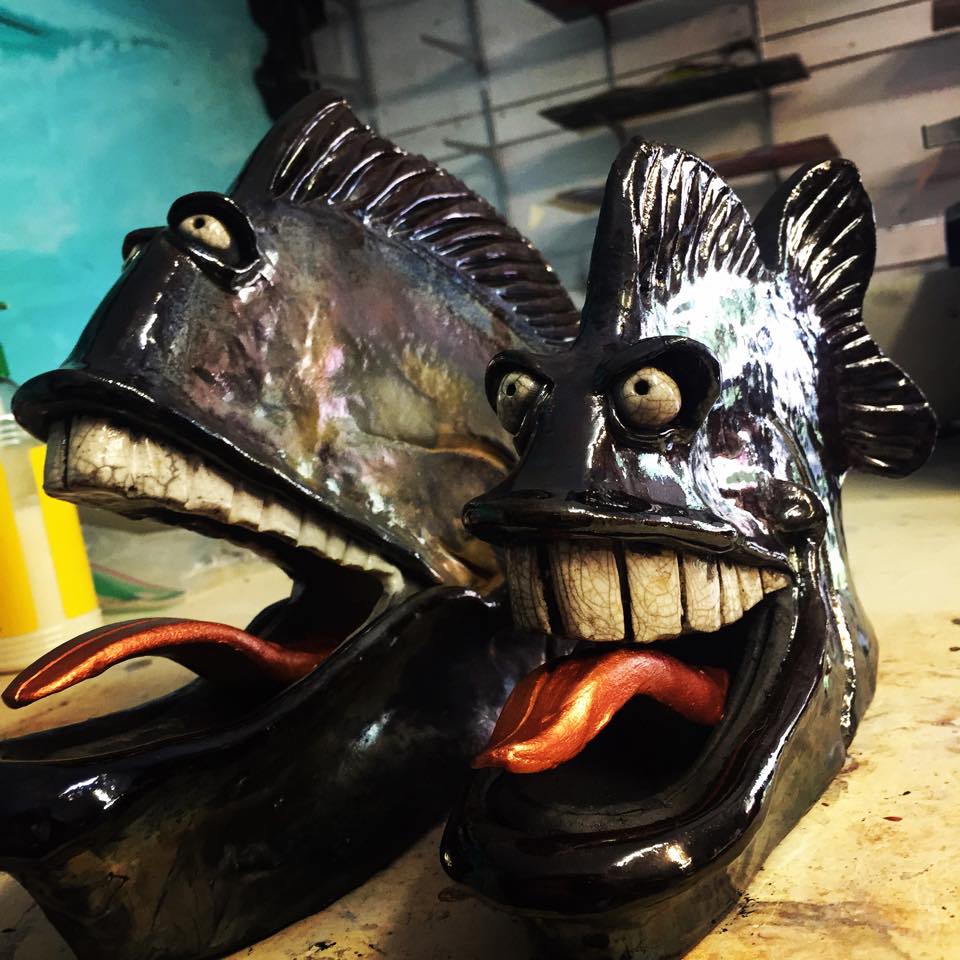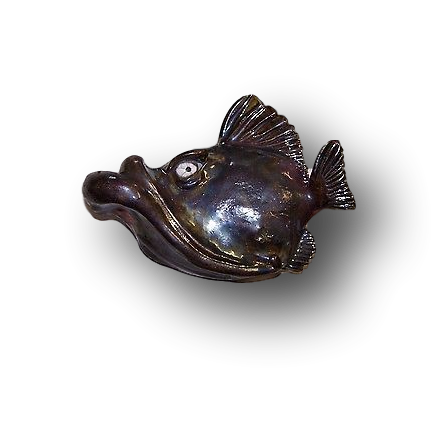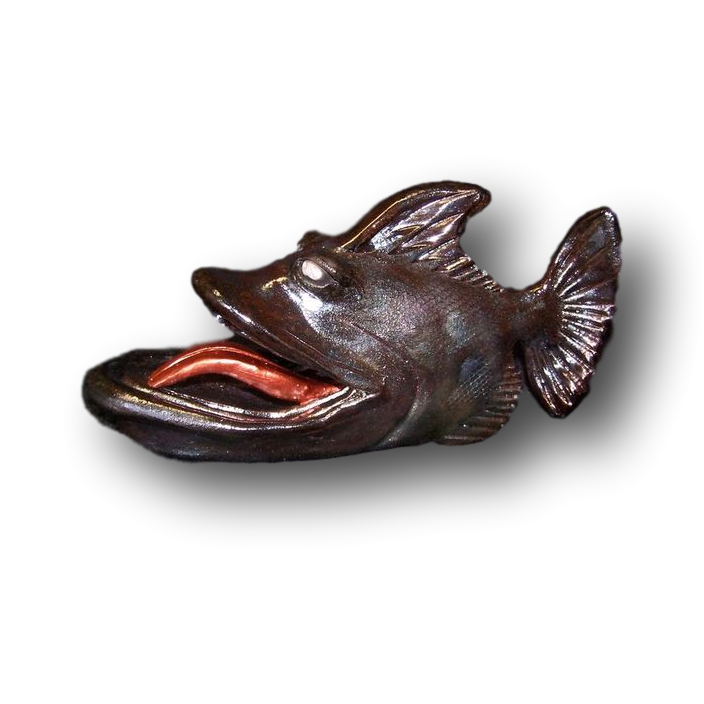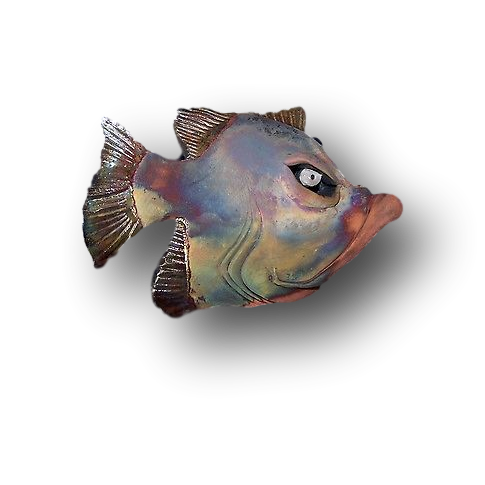 Mike can even make you a glow light as shown by these two lovable fish. He does have very large versions of this as well, The sky is the limit on creations like this! Options include full wired wall sconce, battery operated puck light or a corded light that plugs into the wall.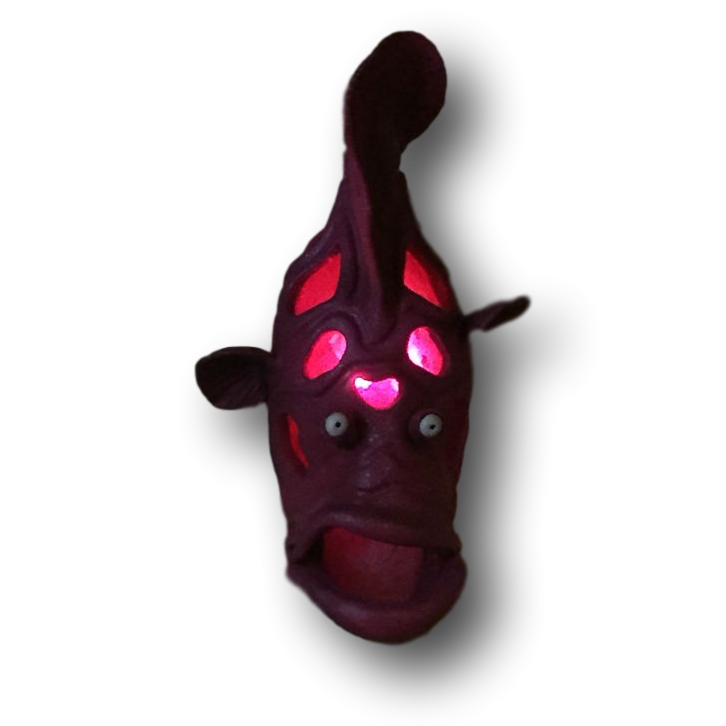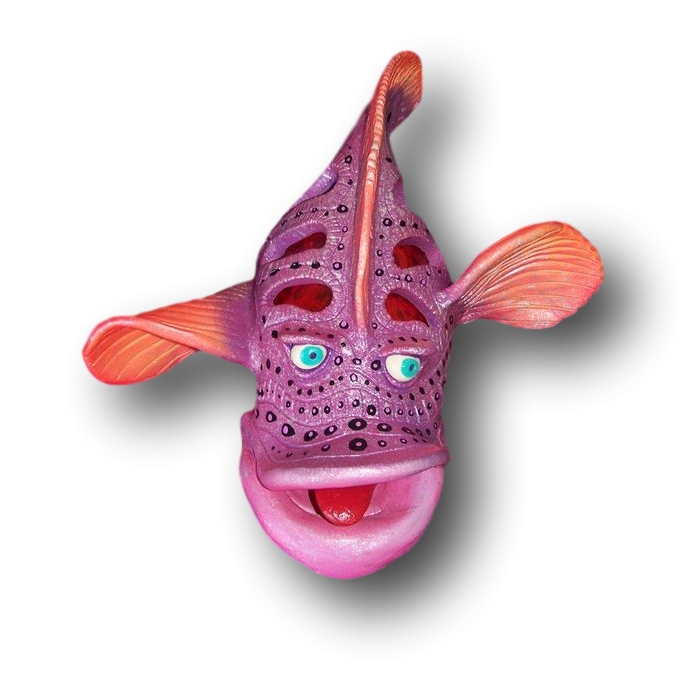 It's hard not to fall for this school of fish, they are all over the place with quirky faces, crazy teeth and fabulous paint jobs. As you can see a fish is mounted uniquely on the wall with a wooden plaque and copper. If you would like a similar fish just contact Mike…Keep in mind these guys need to be on the smaller side due to weight. Kissing fish are also made on request, you can sometimes find them in the gallery store in February.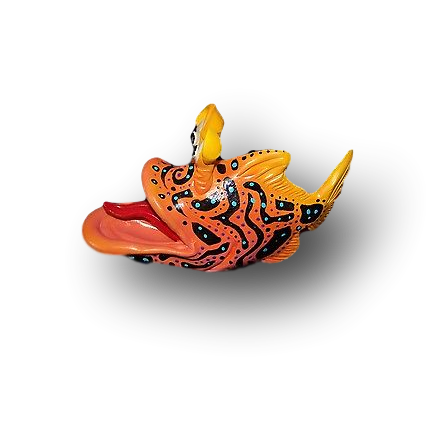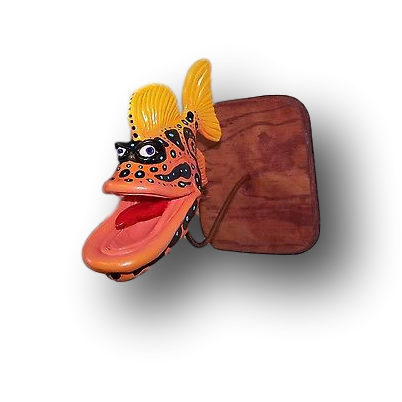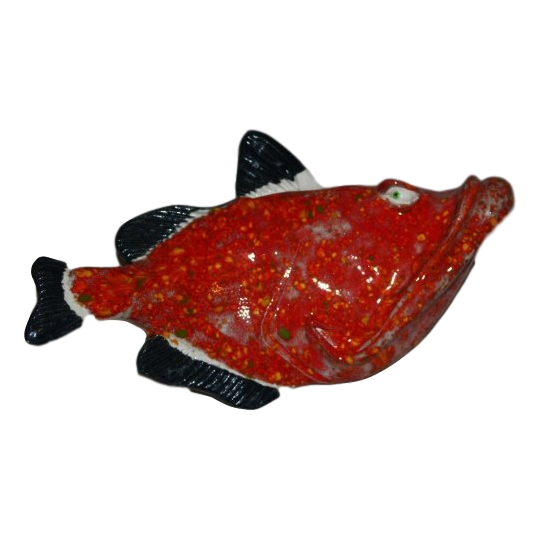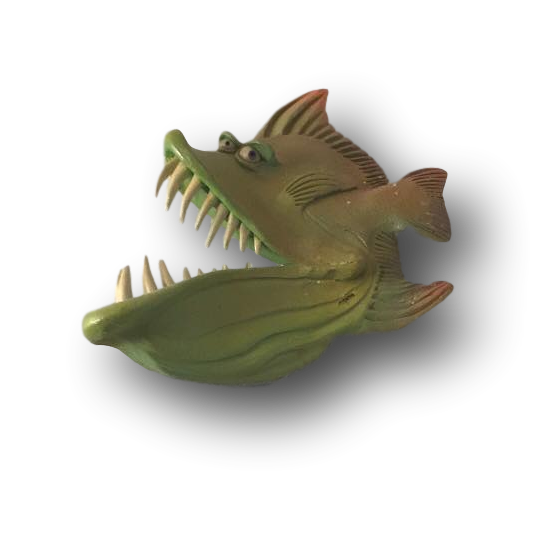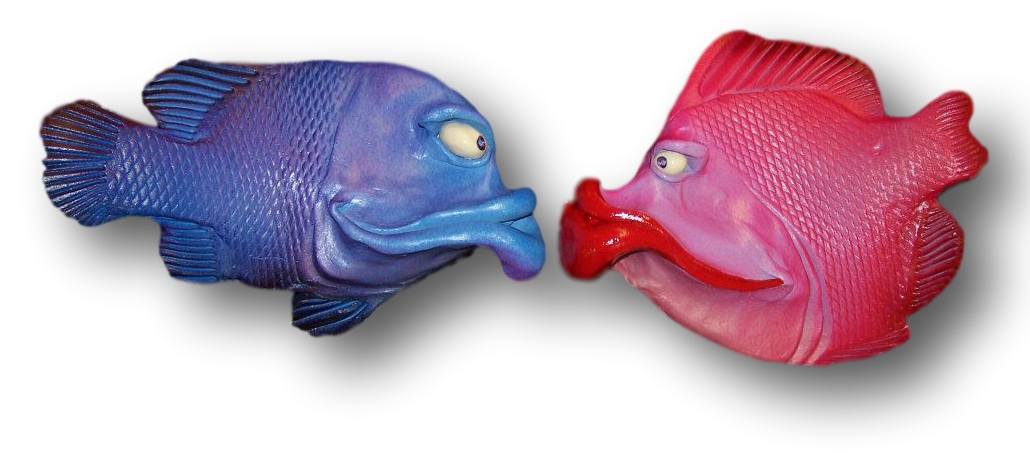 Sometimes Mike gets on a roll with a color scheme, but don't be fooled you may never see this color combo again. Many of our collectors like to grab a few in a specific pattern or color to make a mini school of fish on the wall. Be sure to email us your collection and we will feature it on out Galleries We Love Page!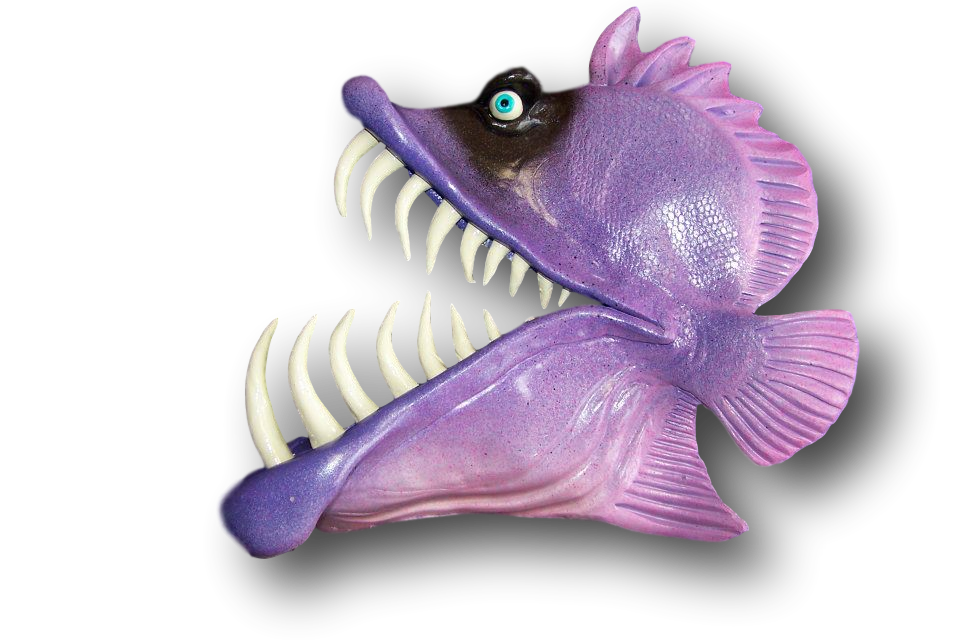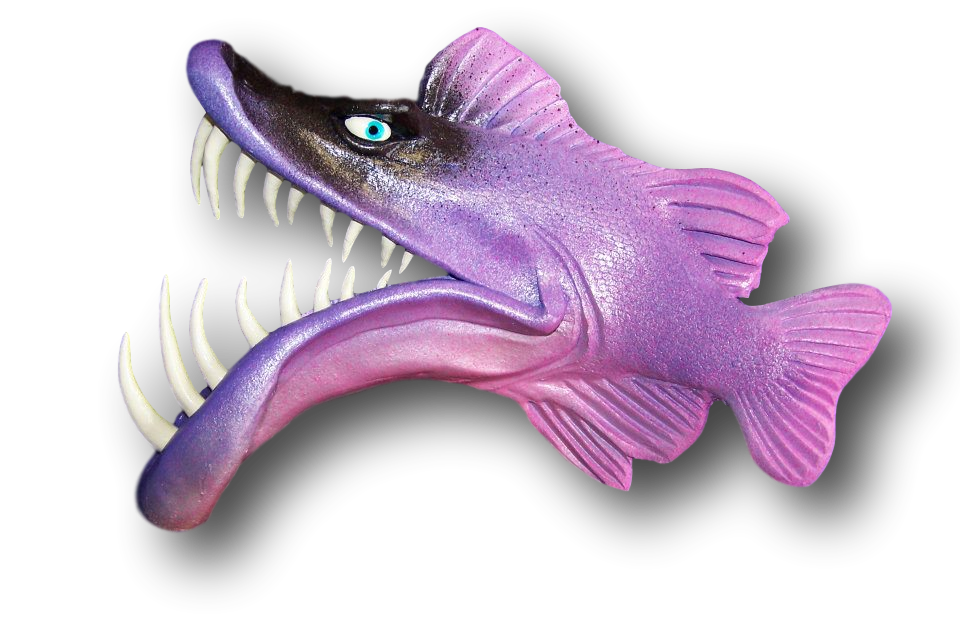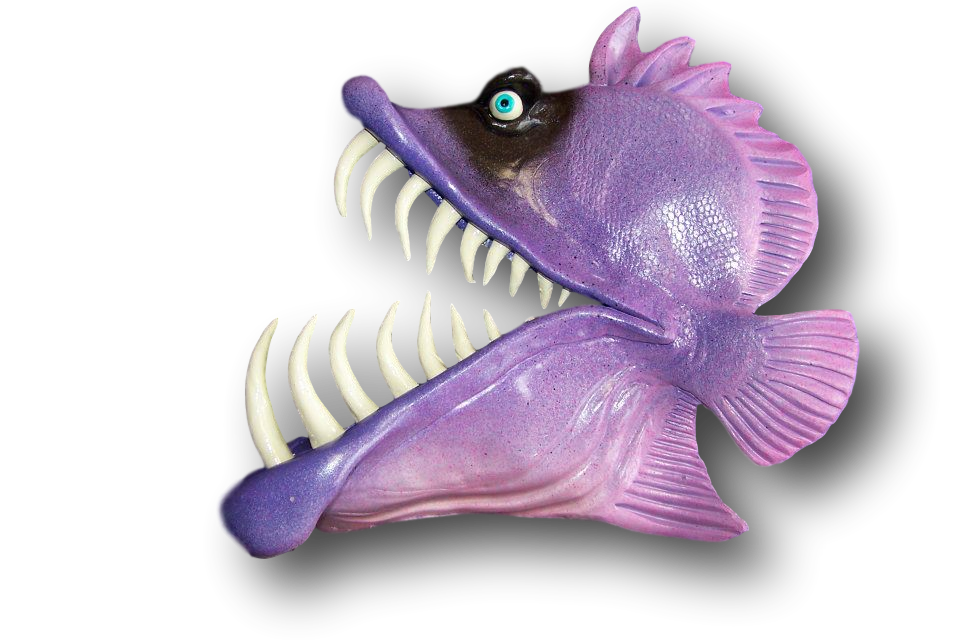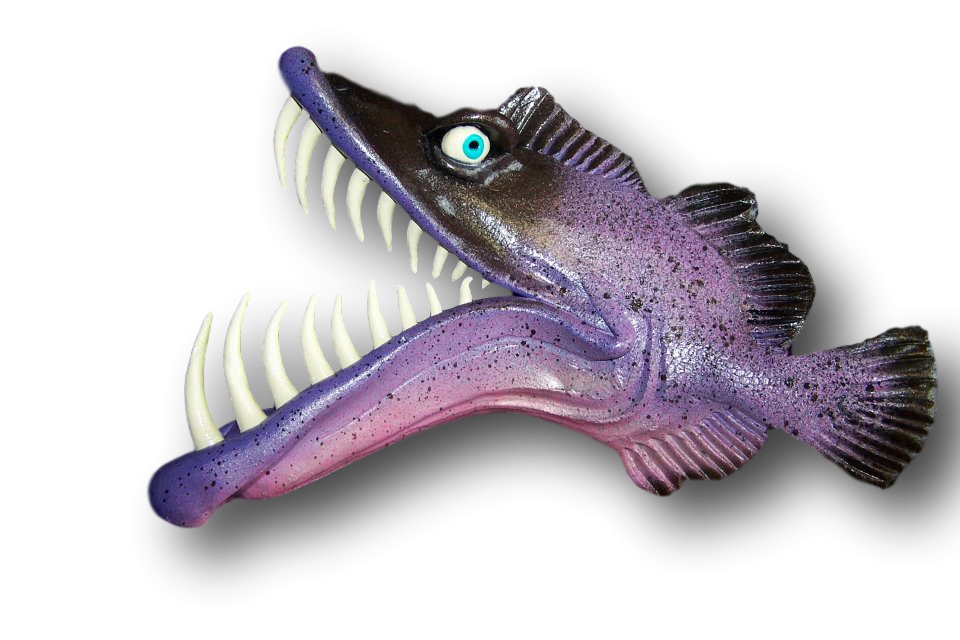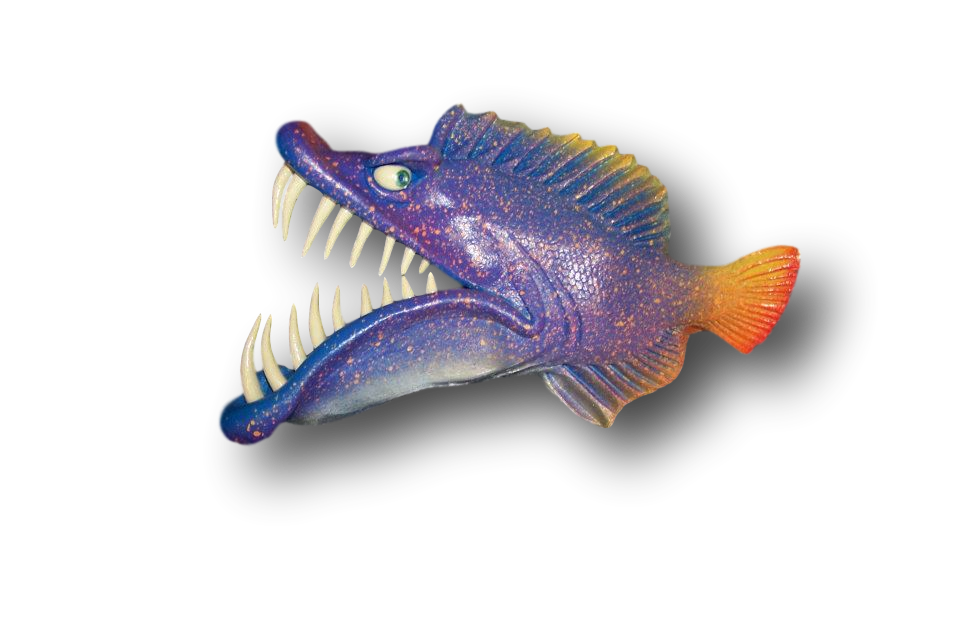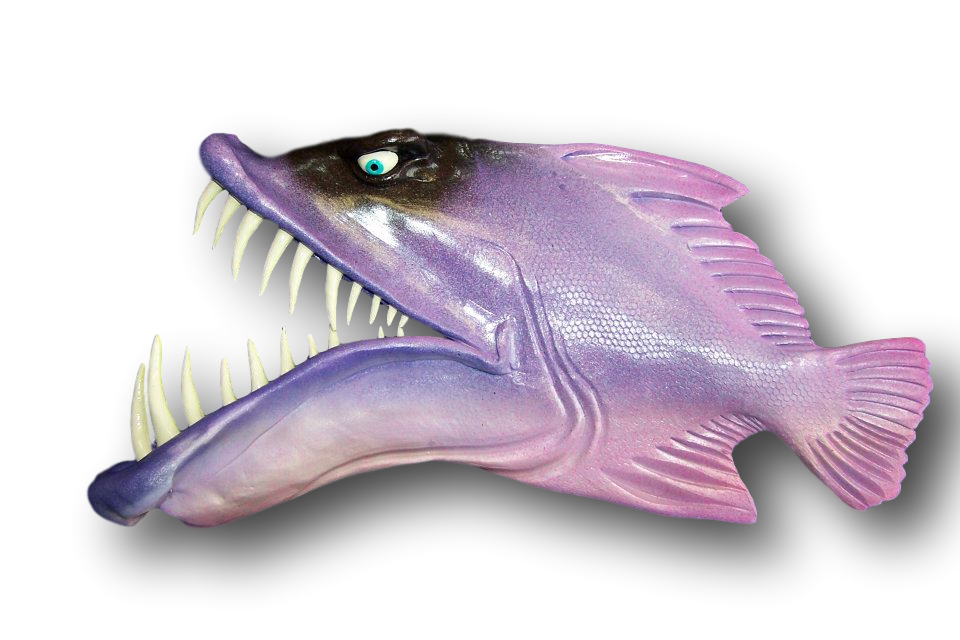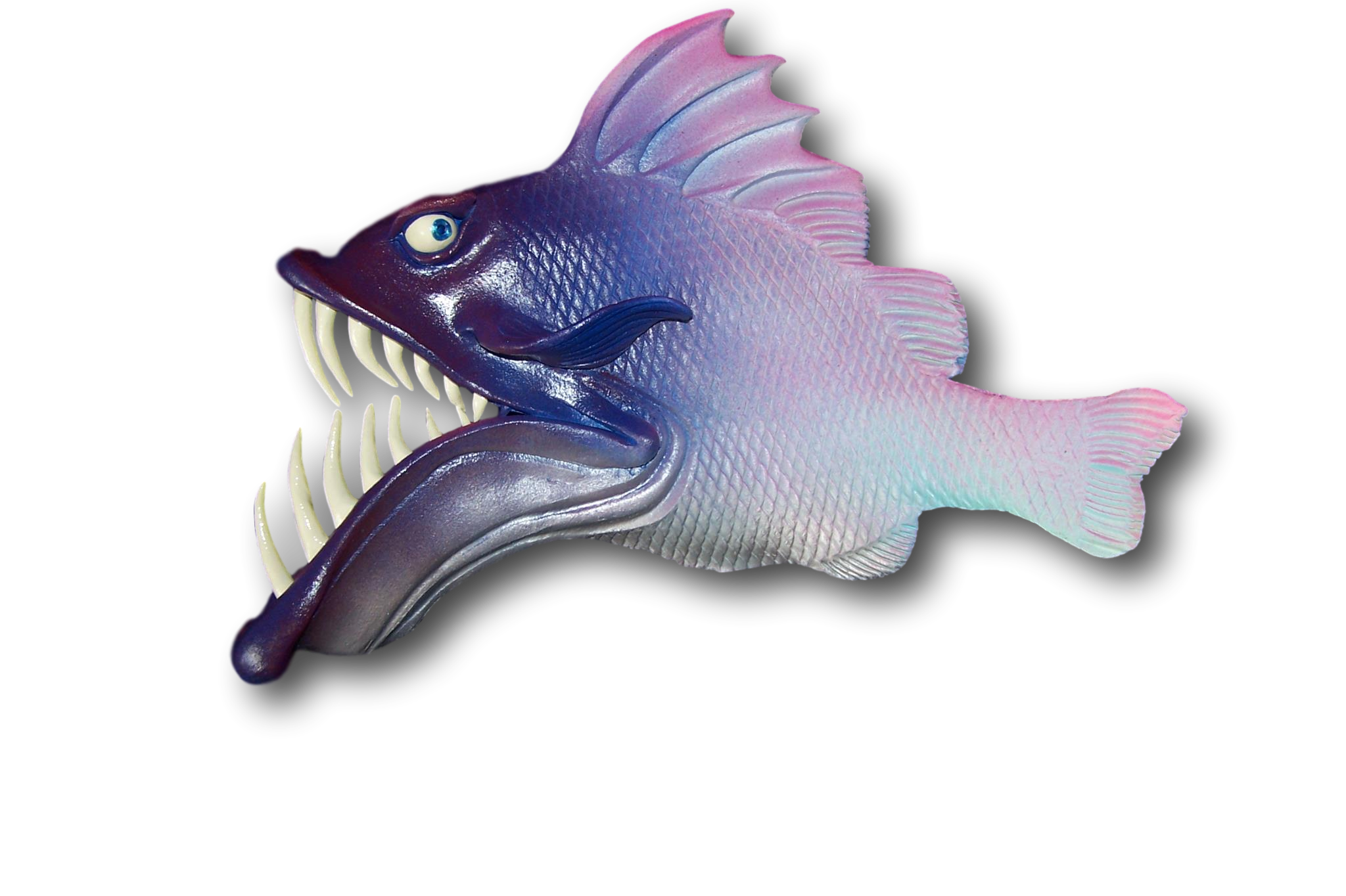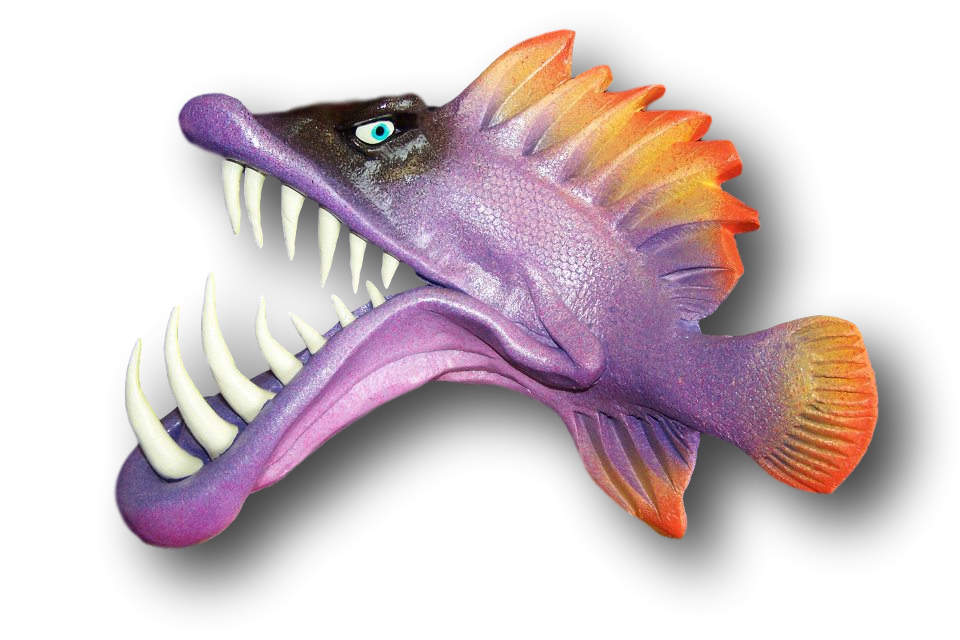 Flaming fish? Yes, Please! These guys are pretty rare but if you ask super nicely Mike will custom paint a flaming fish for you. This goes for the cast fish as well. If you see a fish you want to turn into a speedster just ask Mike. He can make flames in any colors as well….even school colors!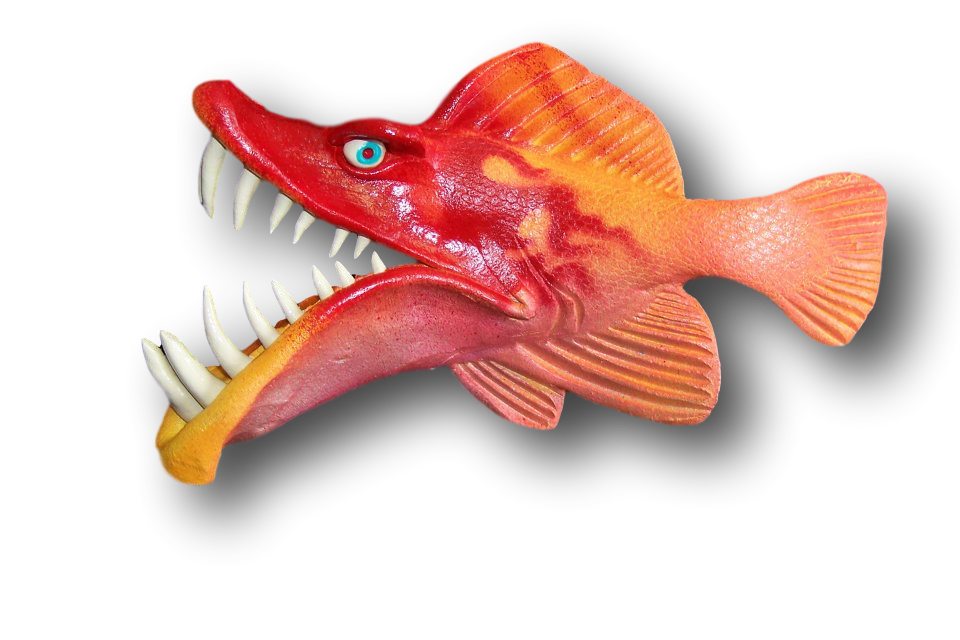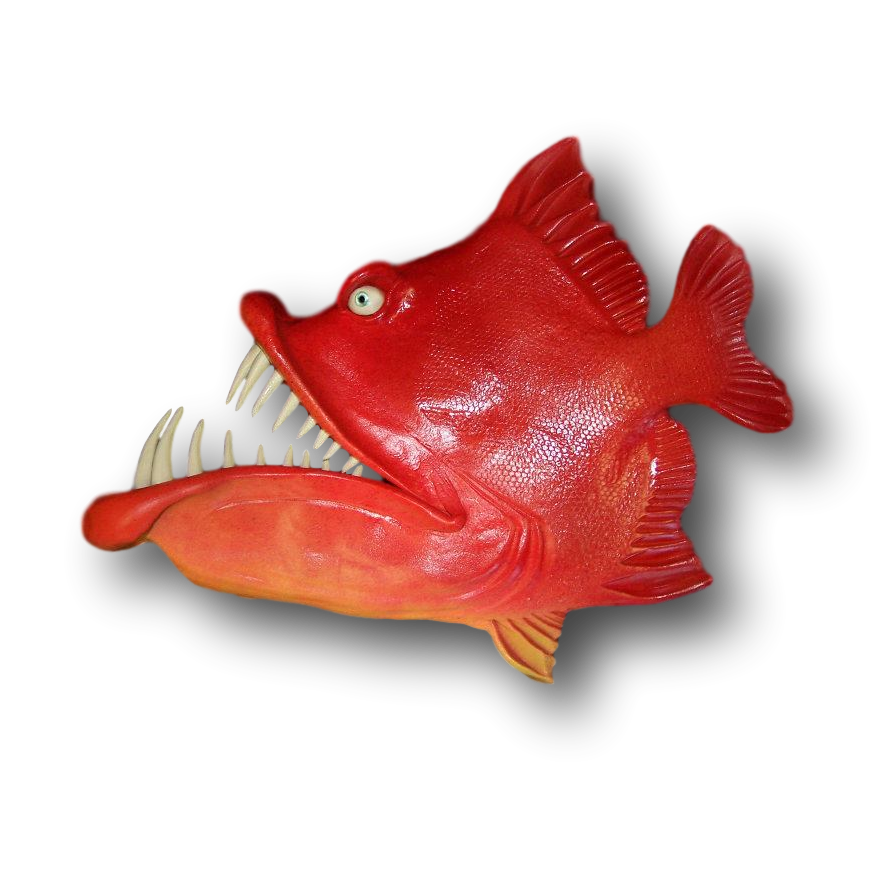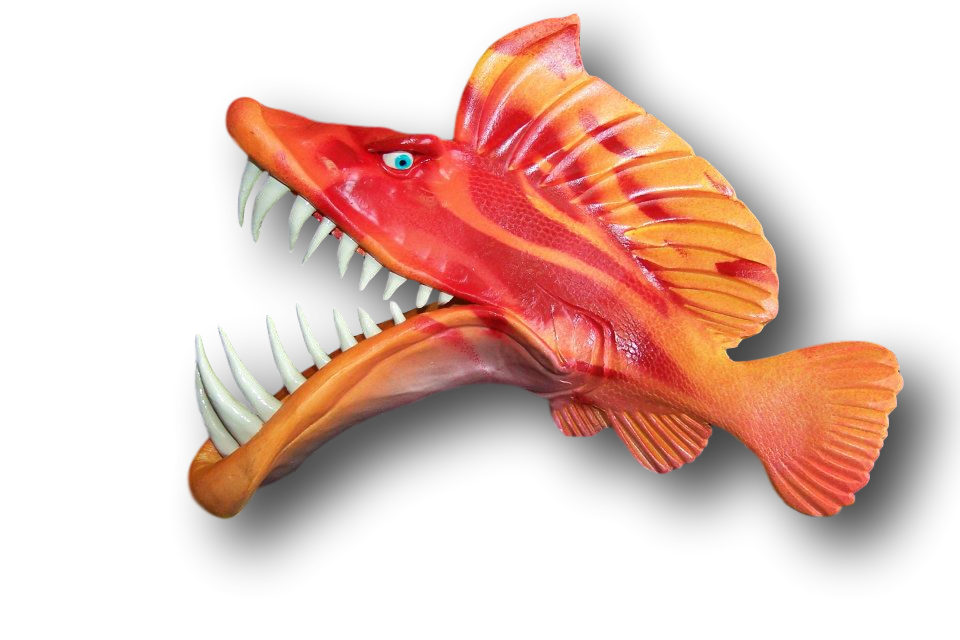 These fish may be blue, but they aren't feeling down! These terrors of the reef stand out in a crowd, blue is the new black after all. Ignore that lone angry green fish…apparently Mike hates green, I'm sure it has something to do with his deep pathological loathing of brussels sprouts. Ok…maybe not but green is pretty rare on his fish.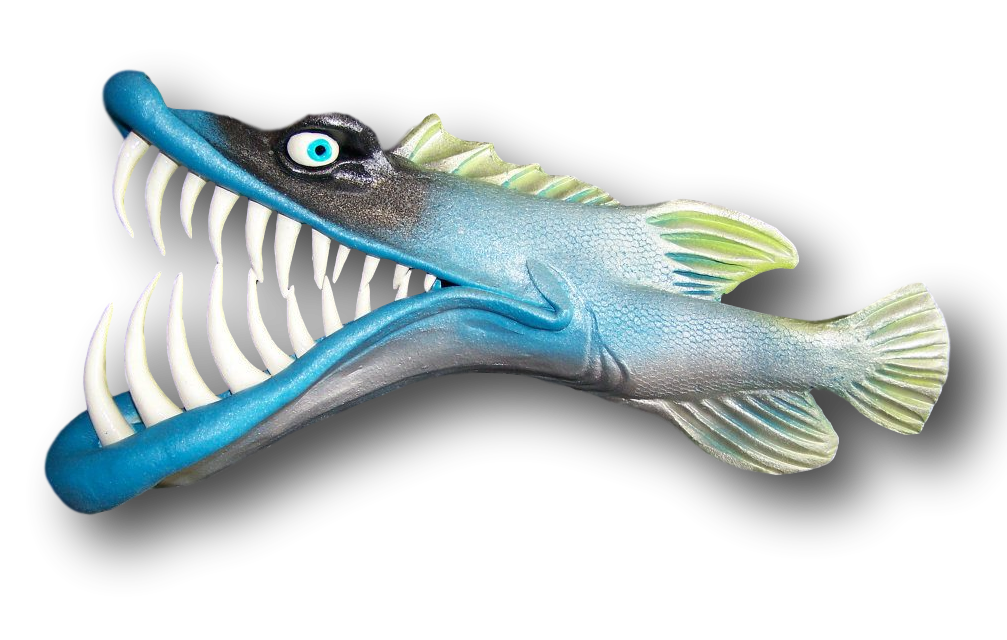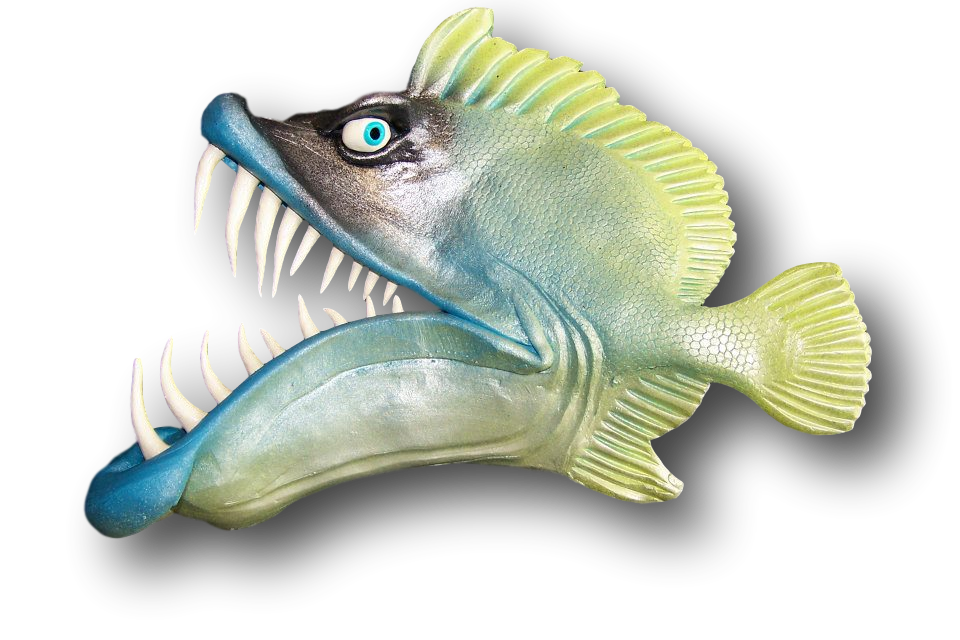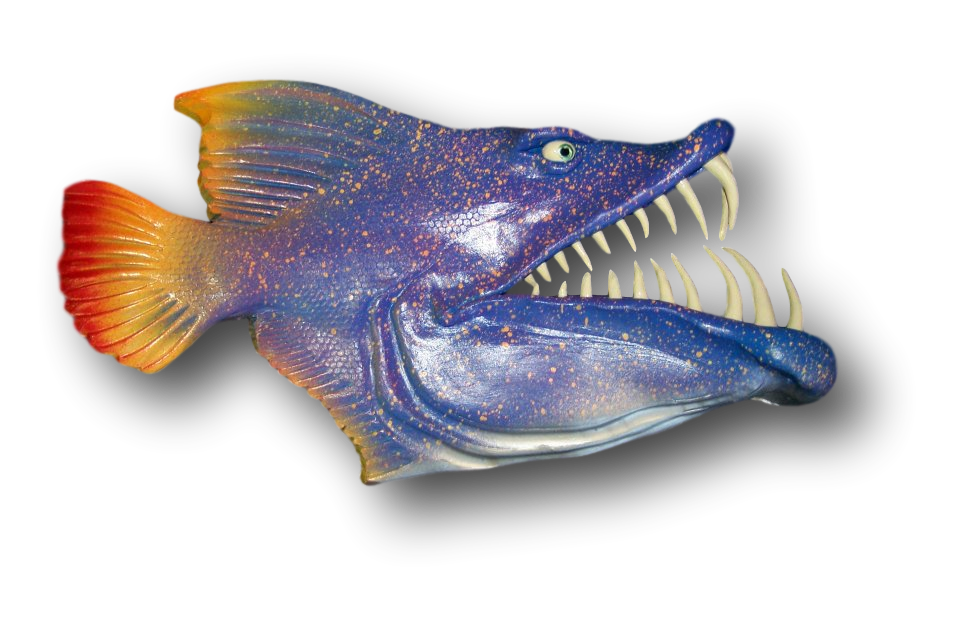 Well not just red…a little orange and pink too! There are no boring fish in this school, they feature big teeth, big attitudes and a flare for color.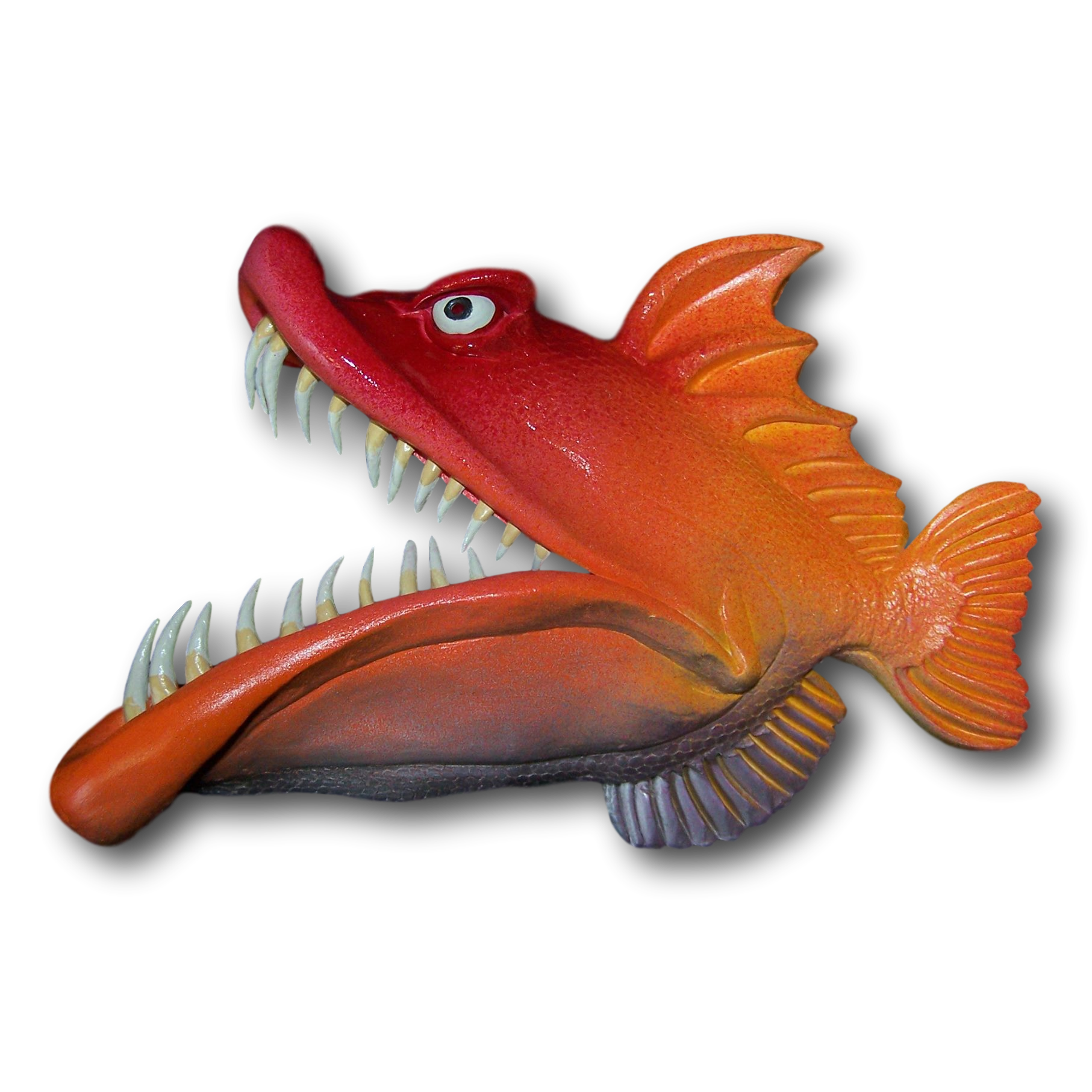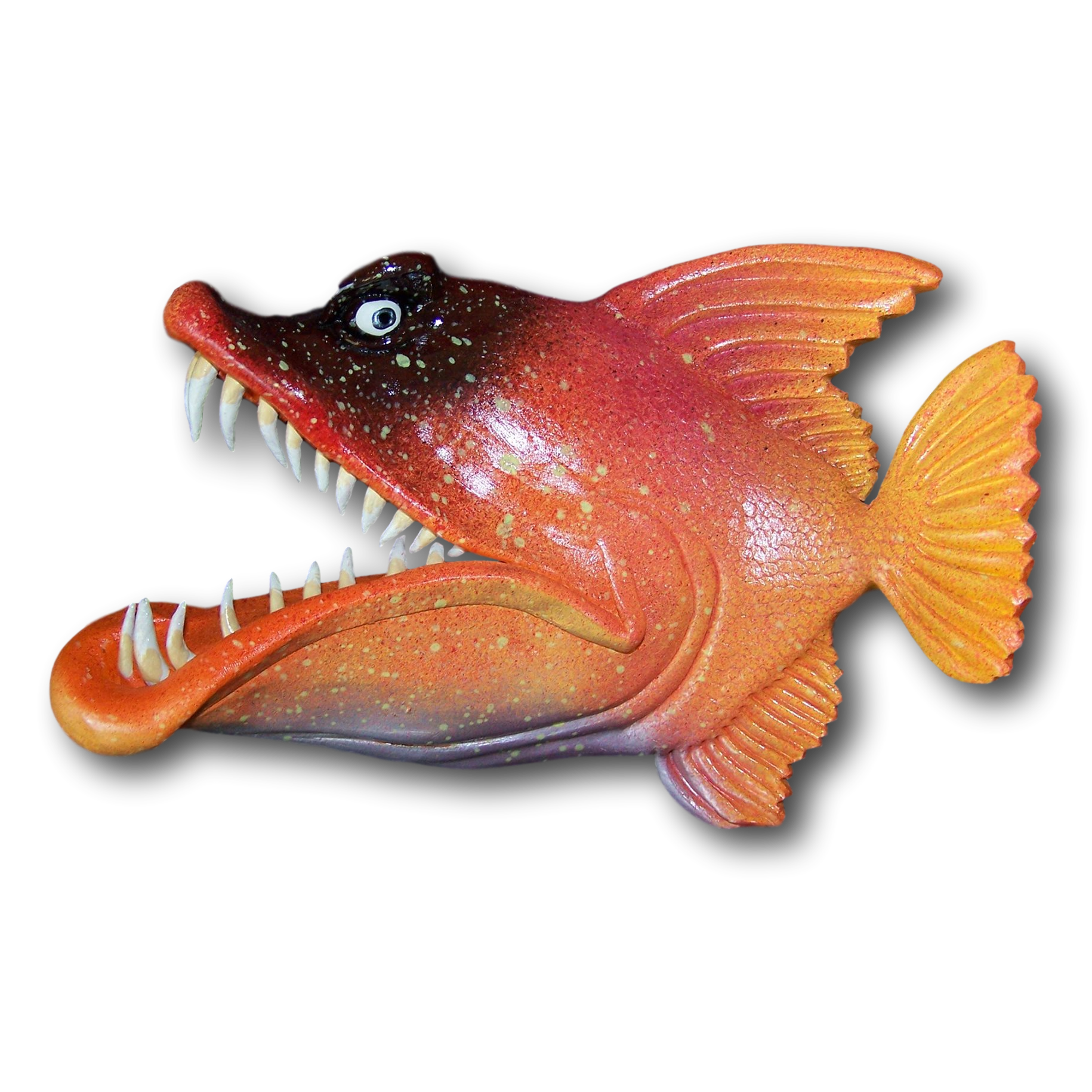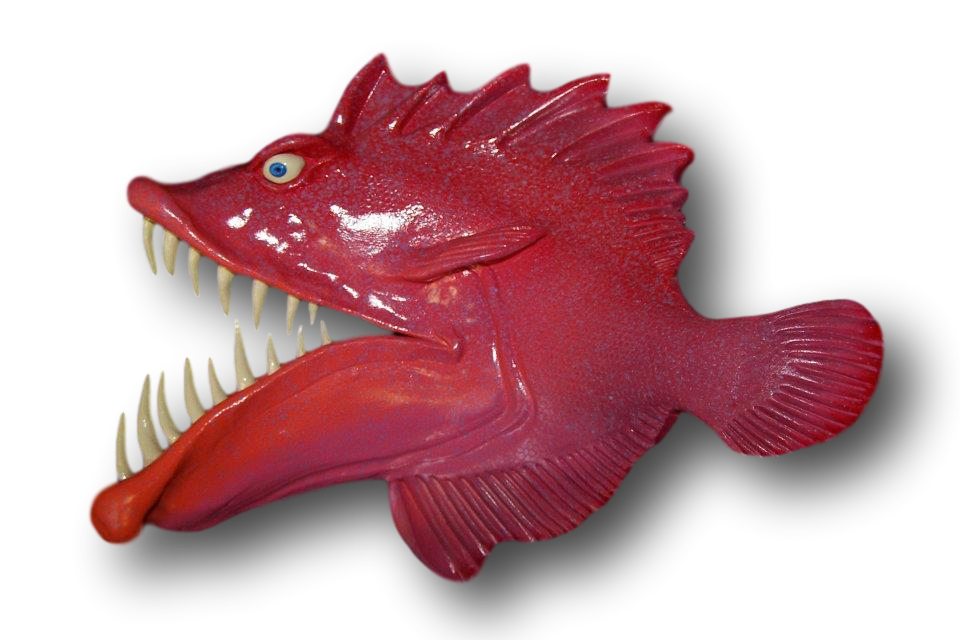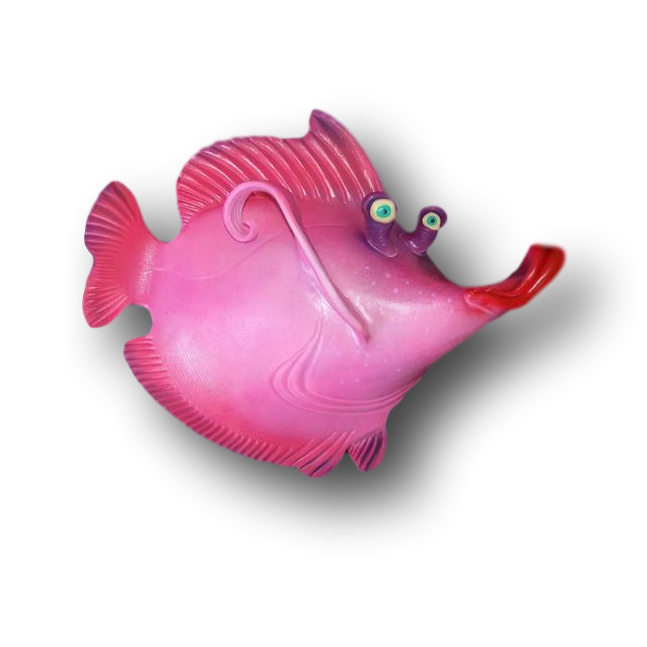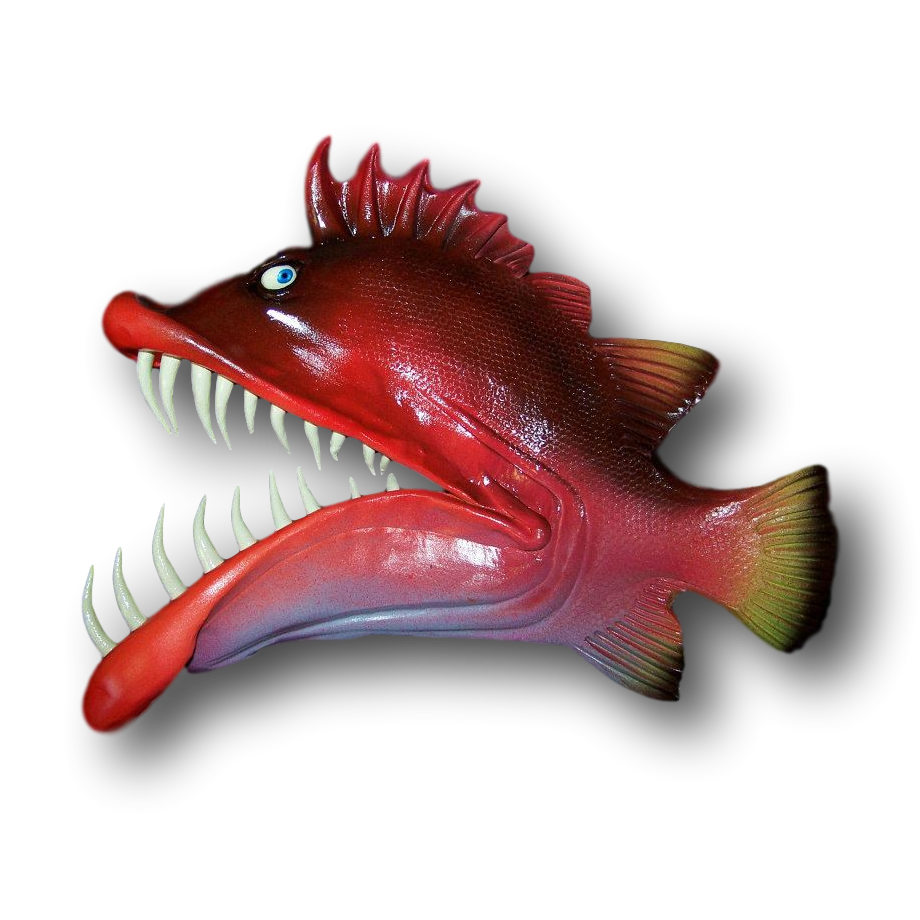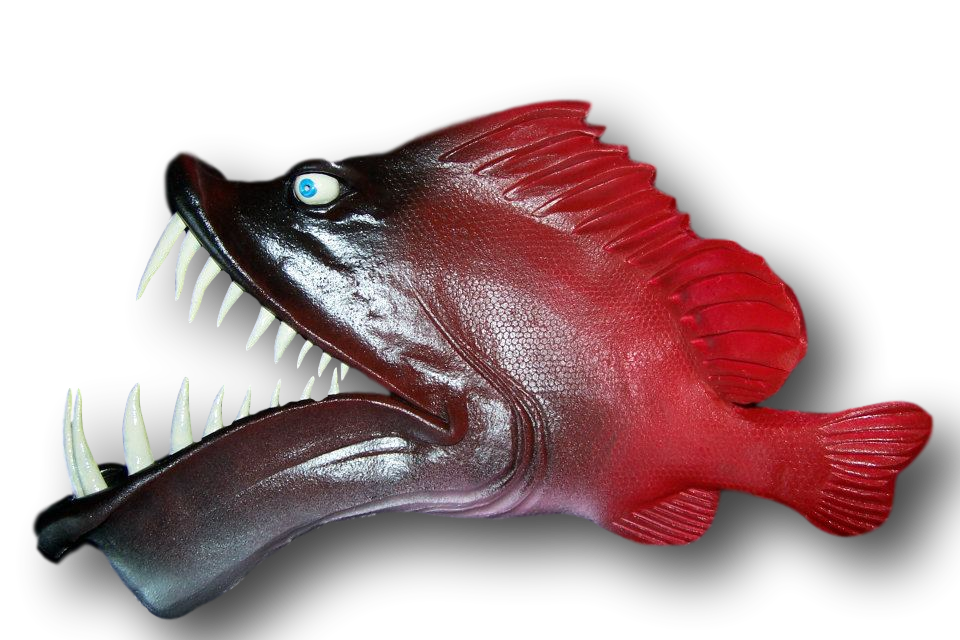 Custom fish doesn't always mean created from scratch. Mike can take the cast fish and make a super special paint job just for you, in this case the customer wanted FSU school colors on his fish. This is a fantastic alternative option to still get that custom feel. We currently have several blank fish that can be order in our Gallery Store.

These guys rarely make it to the store without someone snatching them up. However you can request Mike to make you a special fish, the size and finish and detail will dictate the pricing. Mike has lots of options…check out the About the Art page for more insight into his work. Contact Jodi@FishWithAttitude.com for a custom order.
We do stock several pre-molded fish designs that are often featured in our Gallery Store.
When you want a lippy fish sporting a big attitude you have to call in Bubba.
This fun loving fish is named Bubba, He's from way down south …
This smug little fish is named Elvis. Indeed Elvis is the king of the reef, in his own mind. Still a great fish to hang out with…but he's a …
This mellow little fish is named Flo-Mamma, she's clearly in a good mood based on that expression…but you never know with mamma, anything …
Meet Minka…the chatterbox of the sea.
This chatty little fish is named "Minka", she's clearly about to chomp on someone with a witty …