Did you know Mike can design a custom piece of art just for you? Well, actually he can! There are just some rules, policies, disclaimers, fine print, expectations and guidelines.
Each piece is designed and created by artist Mike Quinn, they are part of his Fish with Attitude or Stunt Sculptures collections. Of course the one of a kind nature means it will have unique markings, design, spots, specks, stripes, dots, teeth, fur, claws, feathers, carvings, glitter, eyes or whatever is applicable to the creature in question.
Naturally, Mike can make you just about anything you can think of...in fact he can even remake some wicked piece from his past. He's mellow, laid-back, easy going...he has a very groovy-artist-in-hula-shirt-covered-in-clay-vibe. His approachable attitude combines perfectly with the quirky artistic side to make a great working relationship with clients. 
You may have noticed some of Mike's Fish with Attitude are the same shape, there is a reason for that! No, Mike isn't OCD...he casts some fish from molds. That means a fish like "Elvis" here will have the same shape but look totally different in each finish. So with one of his awesome named fish like this?  You just need to let Mike know if you want a "Blue Crazy Painted Elvis" or a "Plain Pink Elvis" for your custom order.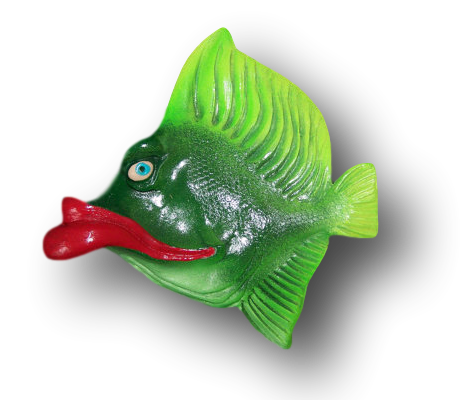 The "Other" fish are created by hand and may look similar to each other but are complete individuals in the fish community. As you can see by the examples these guys have their own personality and no two teeth are the same! Want Mike to recreate one of these masterpieces? Then keep in mind, tooth placement, fin direction and that little something special in their facial expression will not be identical. But really that's all part of their charm and unique attitude. As you can see these Fish with Attitude are the true rebels of the sea.
See the rebel fish in our gallery store? That's because the artist was channeling all of his inner fishy-ness and doing whatever he wanted in the studio this week. He does that, it's his studio. Due to their unique nature these guys go quick and may never swim back this way again...be sure to get yours!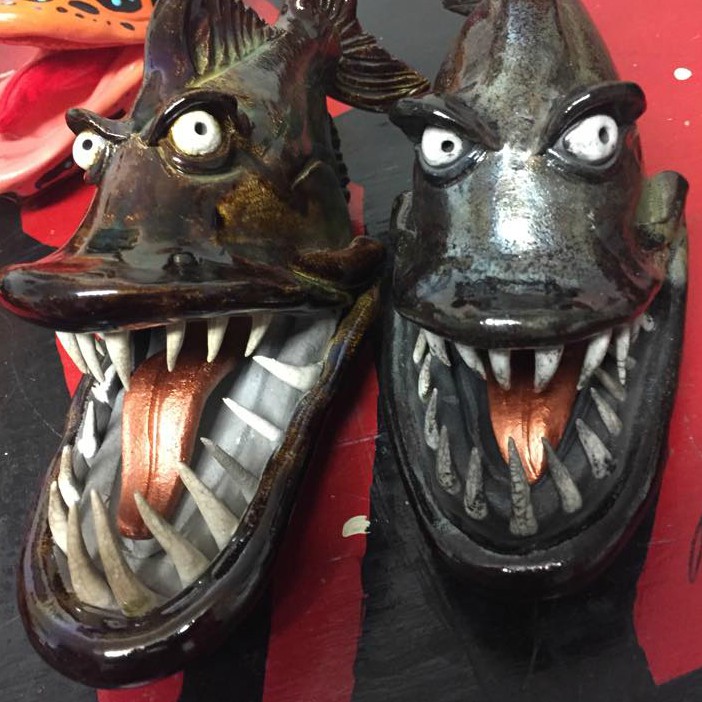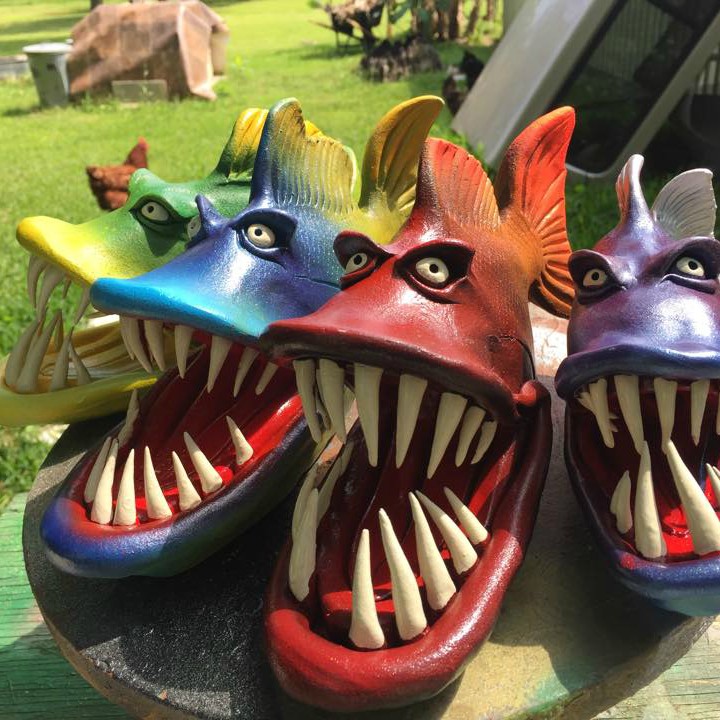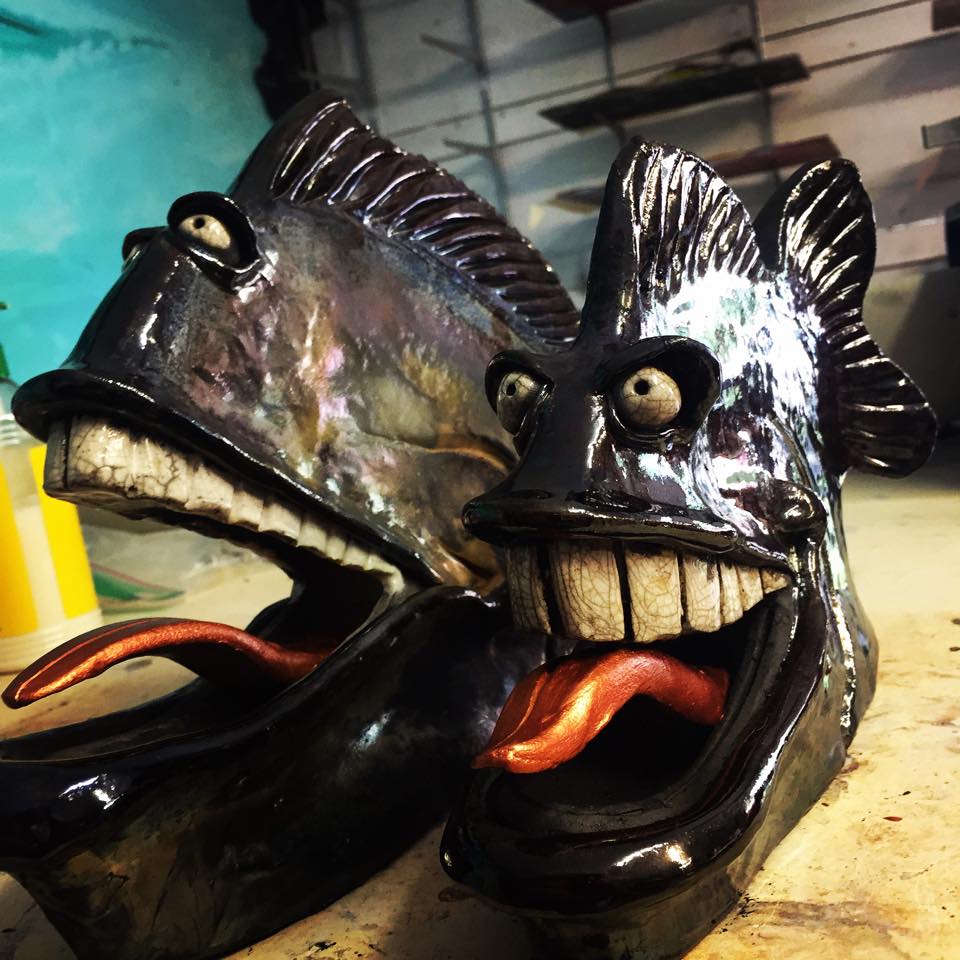 Mike is a quirky artist, that's why his stuff is so amazing...so don't harsh his artistic vibe.
If you say "I want a fish exactly like THAT one"...well it's going to be a bit different. Not because he doesn't love you. But because this is art and it's not so easy to recreate spots, dots, flecks, sheen or even handmade teeth exactly the same. Expect something very close to your request and be delighted you have unique art!
Mike works his best magic when you let him be creative. If you want a flying purple pig two feet long he will absolutely make you the coolest...2' flying purple pig...anyone has ever seen. Let him worry about leg placement, how many feathers are on the wings the amount of wrinkles on his piggy little nose.  Relax, making art is fun!
Mike loves a challenge... You want a 9' wide moose head sporting a tophat, monocle and glowing eyes? Yeah...he can handle that. You can see his other work in the gallery section. Don't worry if you haven't seen the exact animal, tiki, or creature done before. He can bring your vision to life!
You will be in the loop...the larger the project the more feedback and making of progress photos you will get. A simple custom fish...you will most likely get a before we ship type pic. A 12' tiki with octopus hands and a detachable planter hat? Well sir, that is a lot of carving, attaching and painting so you will see that piece in motion.
Custom work requires a 50% down payment and no taksies backsies, this is an art gallery. Mike will make sure the piece is all that you dreamed of...but follow rule 1-3.